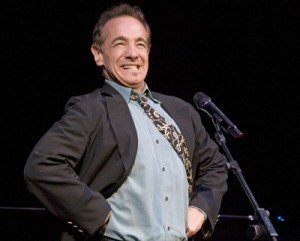 Jason Graae has been featured on Broadway in "A Grand Night For Singing", "Falsettos", "Stardust", "Snoopy!", "Do Black Patent Leather Shoes Really Reflect Up?". Off- Broadway shows include the original casts of "Forever Plaid", "Olympus on My Mind", "All in the Timing", "Hello Muddah, Hello Fadduh" (Drama Desk Nomination- Best Actor in a Musical) and many more. Jason recently traveled across the U.S. for a year and a 1/2 as the Wonderful Wizard of Oz in the National Tour of "Wicked."
Jason made his Metropolitan Opera House debut as the male vocalist in Twyla Tharp's "Everlast" with American Ballet Theatre. Jason has performed his one man show all over the country, winning 4 Bistro Awards and a N.Y Nightlife Award, also making TimeOut NY's Top 10 Cabaret shows of the year. His critically acclaimed show with Faith Prince, "The Prince and the Showboy" played at 54 Below and the pair won a 2nd Nightlife Award and a Robby Award for Best Duo.
In Los Angeles, Jason won the L.A. Drama Critics Circle Award for outstanding achievement in musical theatre. Jason originated the role of Houdini in the L.A. production of "Ragtime" at the Shubert Theatre and won an Ovation Award for "Forbidden Broadway Y2KLA!". At the Hollywood Bowl, he played Benny in "Guys and Dolls'" and Marcellus in "The Music Man". For 3 years, he starred as Scrooge in the world premiere of "Scrooge in Love"in San Francisco, winning the Theatre Bay Area Award for Best Actor in a Musical.
On television, Jason has appeared on many shows including "Six Feet Under", "Rude Awakening", "Friends", "Frasier", "Sabrina the Teenage Witch", "Living Single", "Caroline in the City", "Providence", etc. On PBS, he was a guest soloist twice with the Boston Pops, as well as with Marvin Hamlisch and the National Symphony in "Holiday for the Troops at The Kennedy Center" and in the Jerry Herman documentary "Words and Music by Jerry Herman".
Movie appearances include the title role in "Sunshine Barry and the Disco Worms" (2008 Toronto and London Film Festivals), Disney's "Home on the Range", "On Edge", "Gepetto", "The Dukes of Hazzard in Hollywood", and "Awakening of Spring" . He has been heard on many cartoons and for 5 and 1/2 years was the voice of "Lucky, the Leprechaun" for Lucky Charms Cereal, a balanced part of your complete breakfast.
He made his Los Angeles Opera debut as "Njegus" in "The Merry Widow", repeating the role with Dallas , New Orleans, Houston Grand Opera, and Michigan Opera Theatre (Oscar Wilde Award nomination). Also with L.A. Opera he was featured as "Offenbach" in "The Grand Duchess" , directed by Garry Marshall. He has played "Frosch" in "Die Fledermaus" with the Washington National and San Francisco Operas, the Manhattan School of Music, and most recently with Houston Grand Opera.
Jason has recorded over 65 CDs, including original cast albums, concerts, compilations, and his 3 solo CDs, "You're Never Fully Dressed Without a Smile - Jason Graae Sings Charles Strouse", and "Jason Graae LIVE at The Cinegrill" (Fynsworth Alley), and "Perfect Hermany-the songs of Jerry Herman."
For Musical Theatre West, Jason most recently directed A Grand Night For Singing at The Carpenter Center in Long Beach, CA.
DISCOGRAPHY
Solo CDs
"Perfect Hermany: Jason Graae Sings Jerry Herman"
Buy Now
"You're Never Fully Dressed Without A Smile: Jason Graae Sings Charles Strouse" (Varese Sarabande)
Buy Now
"Jason Graae: LIVE At The Cinegrill" (Fynsworth Alley)
Buy Now
Original Cast Recordings
"Forever Plaid" (BMG)
"Rodgers And Hammerstein's A Grand Night For Singing" (Varese Sarabande)
"Forbidden Hollywood" (Varese Sarabande)
"Forbidden Broadway: 20th Anniversary Edition" (DRG)
"Olympus On My Mind" (TER)
"LoveSong" (DRG)
"The Broadway Musicals Of 1943" (Bayview)
Concert And Studio Cast Albums
"Have A Heart"
"Leave It To Jane" (Label: TBA)
Sweet Lil Devil- PS classics
Late Night Comic- benefitting the actors fund
"Babes in Arms" (New World Records)
"Sitting Pretty" (New World Records)
"Fifty Million Frenchmen" (New World Records)
"Annie Get Your Gun" (EMI Classics)
"Strike Up The Band" (Elektra Nonesuch)
"Drat The Cat!" (Fynsworth Alley)
"Lucky Stiff" (Fynsworth Alley)
"Colette Collage" (Fynsworth Alley)
"Cinderella" (Fynsworth Alley) Compilation CDs
"Lost In Boston: 3 & 4" (Fynsworth Alley)
"Unsung Musicals: 1 - 4" (Fynsworth)
"Unsung Sondheim" (Fynsworth)
"Unsung Berlin" (Fynsworth)
"Broadway Sings Burt Bacharach" (Fynsworth)
"Broadway Sings Paul Simon" (Fynsworth)
"A Broadway Christmas" (Fynsworth)
"Prime Time Musicals" (Fynsworth)
"Broadway Bound" (Fynsworth)
"Sing For Your Supper" (Shadowland Music)
"Keep Your Undershirt On" (Shadowland Music)
"Everyone Has A Story -- The Songs Of Adryan Russ" (LML)
Cautiously Optimistic- Scott Evan Davis
Upcoming With The London Sinfonietta (Recorded, But Not Released)
Roberta (New World Records)
And the World Goes Round (Kritzerland)